Chickpea Avocado Salad
This healthy Mediterranean chickpea salad is loaded with avocado, tomato, cucumber, feta cheese and herbs, all tossed in a Greek style lemony dressing. It's naturally gluten-free and can easily be vegan without the cheese. Its high in protein and a quick and easy to make salad perfect for the spring/summer that uses loads of fresh vegetables and herbs. A healthy chickpea salad that is vibrant in colour and a great addition to any barbecue, pot luck or picnic!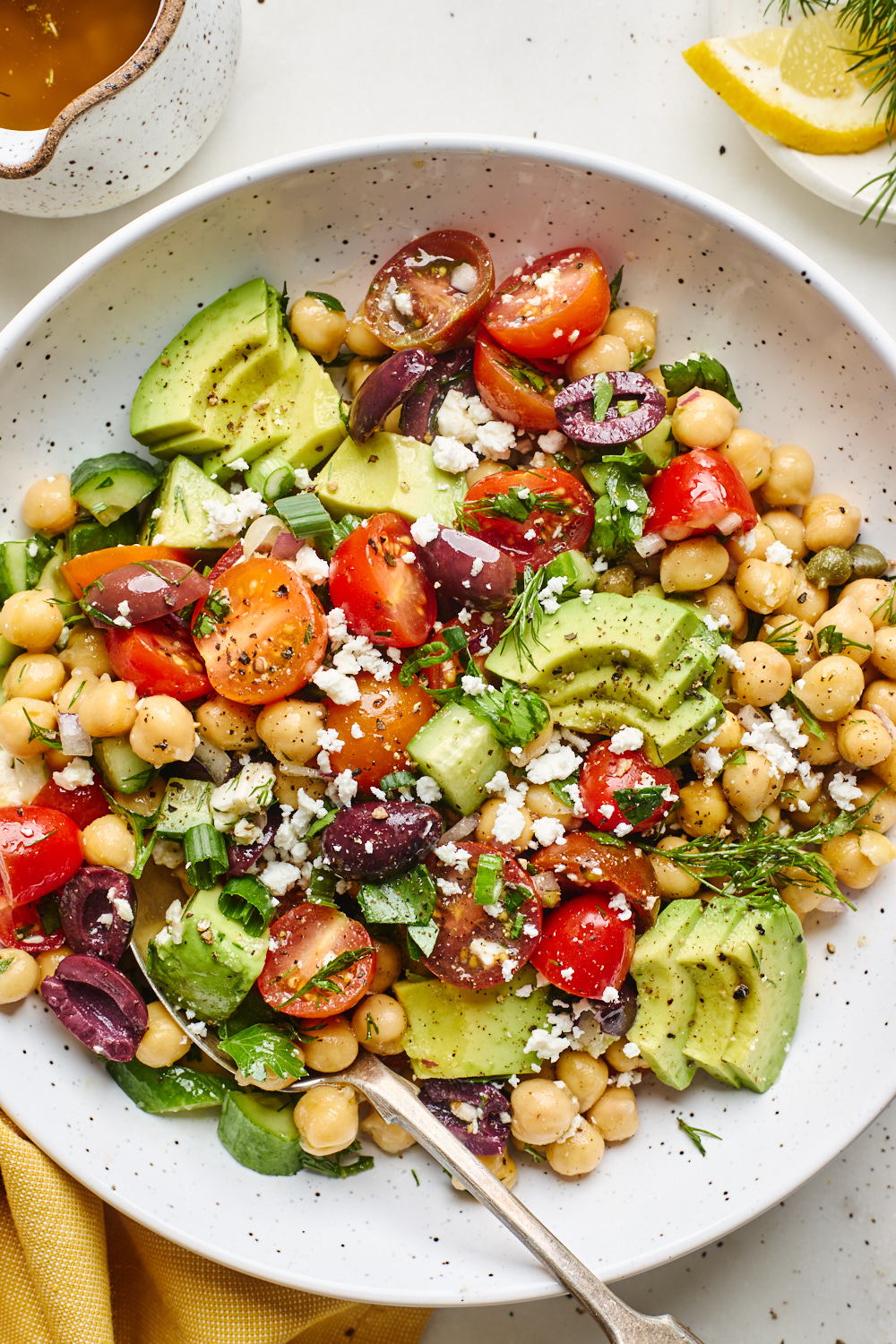 Why you will love this salad
This vibrant and beautiful chickpea salad has Greek and Mediterranean flavours. It's made with fresh vegetables. The salad dressing is very simple: olive oil combined with lemon juice, red wine vinegar, Dijon and garlic
The chickpeas (same thing as garbanzo beans) provide loads of protein to this recipe, also good fats from the avocado and will this salad will also definitely help you get your veggies in for the day
Simple recipes are always the best! It takes only minutes of prep and to put together
Tips for the perfect salad
This salad can be made up to 4 hours before you plan to serve it. However, if making it in advance, be sure to leave the avocado and feta and the dressing out and add it in right before serving. This keeps the salad fresh and prevents the avocado from turning brown in the salad.
The dressing for this salad can be made up to 3 days in advance. Store it in the fridge until you're ready to make your salad.
I like to use a block of feta and crumble it myself instead of using the pre crumbled feta that I find very dry
Look for ripe, but firm avocados. If the avocado is too soft it will get mushy when you toss everything together.
Store leftovers for up to 1 day. Because there are no leafy greens in this chickpea salad recipe, it holds up well. Do not freeze.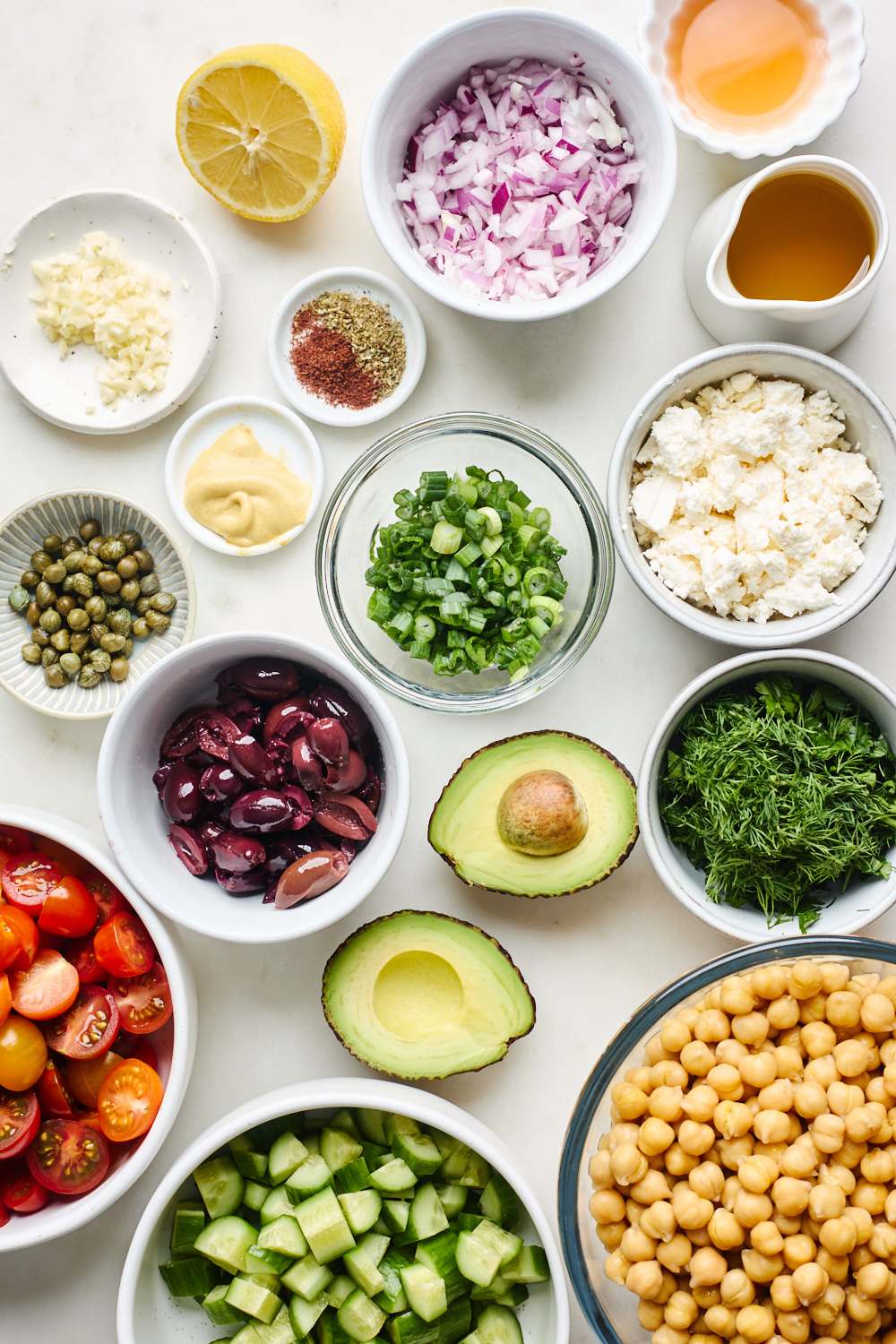 Chickpea salad flavor variations
This salad is delicious as-is, but you can absolutely add other ingredients to the mix to customize the flavors to your tastes. The options are really endless!
Protein: Make it a meal by adding cooked diced chicken, cooked or grilled shrimp or smoked sausage.
Beans: You can use a blend of different types for beans for added flavor and texture. Some great choices include kidney beans or Great Northern beans.I love white beans too but they tend to be softer so they may get a little mushy when tossing with the rest of the ingredients
Veggies: Free free to add other vegetables such as marinated artichoke hearts, grilled zucchini or bell peppers, corn, capers, or sun dried tomatoes. Feel free to toss in some crispy chopped lettuce or leafy greens to this salad too
Herbs: Use Fresh herbs of your choice. Swap out the parsley for fresh chives, Dill for basil or for a Mexican version you can switch things up with some Tex Mex or taco seasoning in the dressing and use lime juice for lemon and cilantro instead of dill , cotija instead of feta cheese.
Make this chickpea salad spicy by adding red pepper flakes or even some chopped fresh chilies
Use any kind of fresh tomatoes. Roma tomatoes, cherry tomatoes, or grape tomatoes will all work!
Don't have red onions? Use chopped green onions, shallots or yellow/white onions.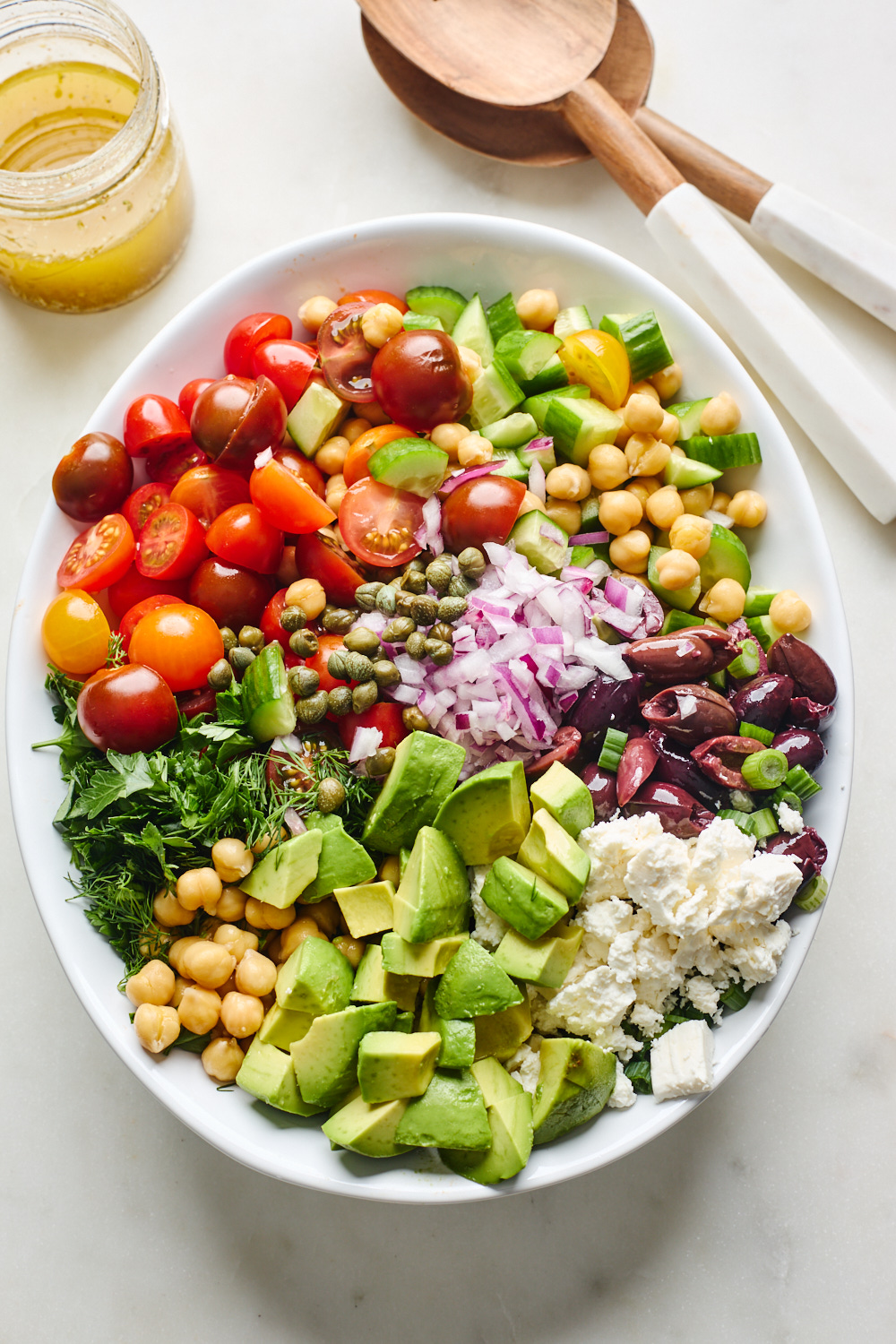 How to make chickpea salad
In a large bowl combine diced tomatoes, diced cucumber, sliced red onions, and drained chickpeas. Add diced avocado.
In a medium bowl, prepare a simple salad dressing. Combine olive oil with lemon juice, and chopped fresh herbs (basil and parsley).
Pour the dressing over the salad. Toss gently. Season with salt and pepper.
How to meal prep salad?
You can absolutely make this chickpea salad ahead up to 1 day in advance making it a great meal prep for summer parties/BBQs or as part of your weekday meals
Prep veggies: Add all ingredients except dressing and avocado to a salad bowl. (The veggies tomatoes especially, release loads of water or liquid when they are introduced to salt or dressing and get soggy)
Make dressing
Store: Cover and refrigerate both separately until ready to serve, up to 1 day.
Before serving: Dice avocado before serving and combine. Shake the dressing in case the spices and garlic have settled to the bottom then pour into salad and toss gently to combine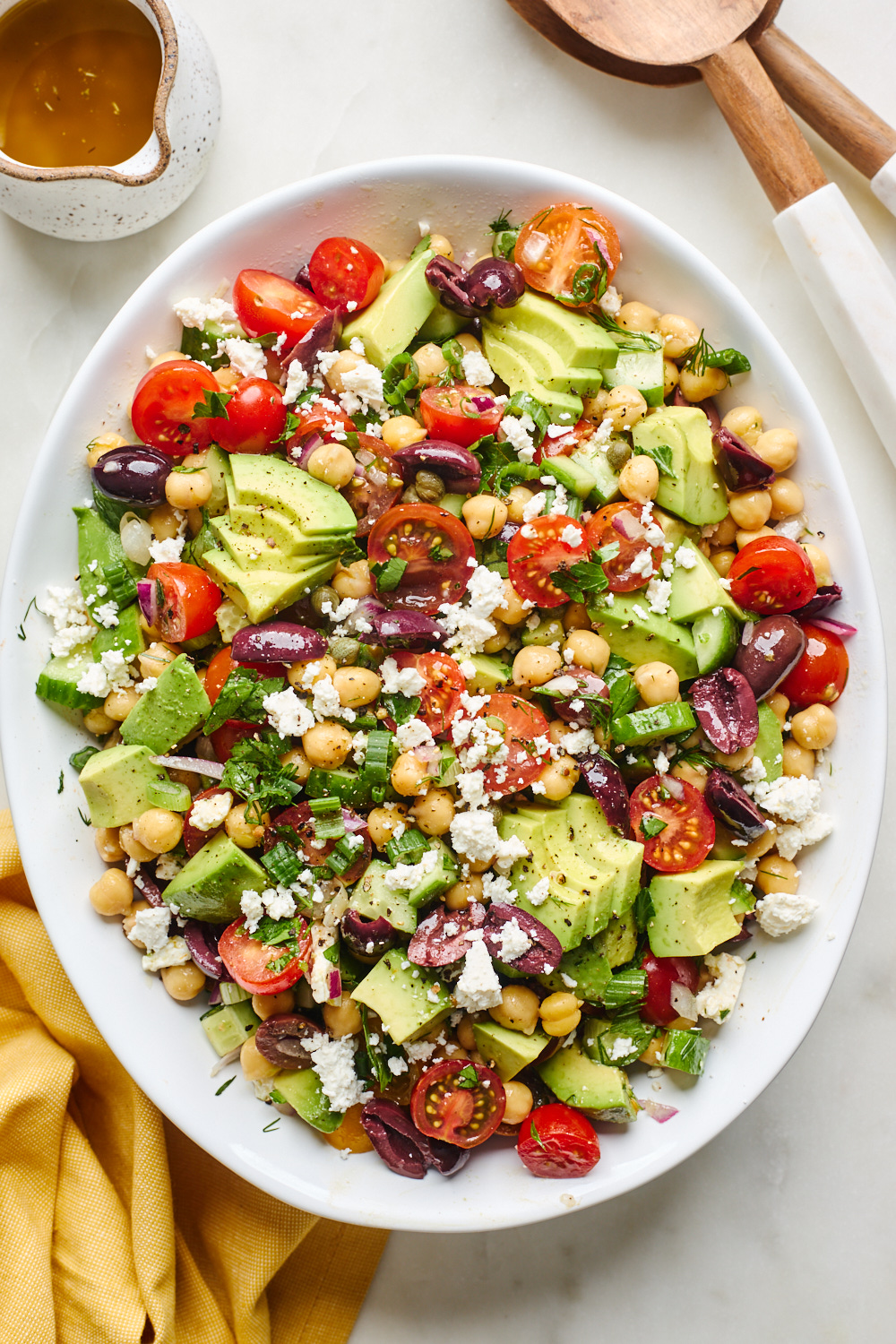 Other Mediterranean salad recipes
Recommended main courses
Recipe
Prep Time: 15 mins
Cook Time: 15 mins
Ingredients
For the salad
2 15-ounce cans chickpeas rinsed and drained

3 Persian cucumbers diced, or 1 large English cucumber

3 cups grape or cherry tomatoes halved

2 small to medium ripe avocados diced or more if you like extra

½ red onion peeled and diced

½ cup olives pitted, chopped

¼ cup fresh parsley and dill, finely chopped

2 green onions sliced

1 tablespoon drained capers, rough chopped (optional)
For the dressing
1 clove of garlic peeled and minced or grated

¼ cup olive oil

1 teaspoon Dijon

½ teaspoon oregano

½ teaspoon sumac

2 tablespoons fresh lemon juice

2 tablespoons red wine vinegar
Directions
Prep and chop all the veggies, drain the beans and pit your avocado.
In a large bowl combine salad ingredients: diced avocado, diced tomatoes, herbs, capers if using, diced cucumber, sliced red onions, olives and drained chickpeas. (Plus any protein add in)
In a medium bowl, combine salad dressing ingredients: olive oil, lemon juice, spices, garlic, and Dijon mustard. Stir to combine.
Pour the dressing over the salad. Toss to combine. Season with salt and pepper as needed and adjusting lemon juice, herbs and spices to taste.
Recipe Notes
Store: Refrigerate leftovers in an airtight glass or plastic container for up to 1 day.
Make ahead: You can make this salad up to 1 day ahead, but I don't recommend putting it together until just before serving. Refrigerate beans and veggies except avocado in a bowl and dressing in a jar. When ready to serve, dice avocado, warm up dressing to melt the oil and combine.