Roasted Sweet Potatoes With Bacon
This sweet potato recipe is a very delicious side dish. It's savory with a hint of sweetness from the maple syrup and it bakes together with the bacon giving these potatoes so much flavor and its a great way to cook it all in one sheet pan. Roasted vegetables are the best - and even better when bacon is involved at least that is what my husband says. These sweet potatoes roast up nicely with some crispy edges on the outside and nice and tender on the inside. The bacon gets nice and crispy and the shallots get well caramelized and you even gets some crispy shallot bits which are so delicious. These are so good I strongly recommend you make a double batch because these will be gone in no time at all. Any leftovers keep well meaning these roasted sweet potatoes are also great for meal prep so you can add them to salads, enchiladas, wraps or grain bowl or a side veggies for your proteins.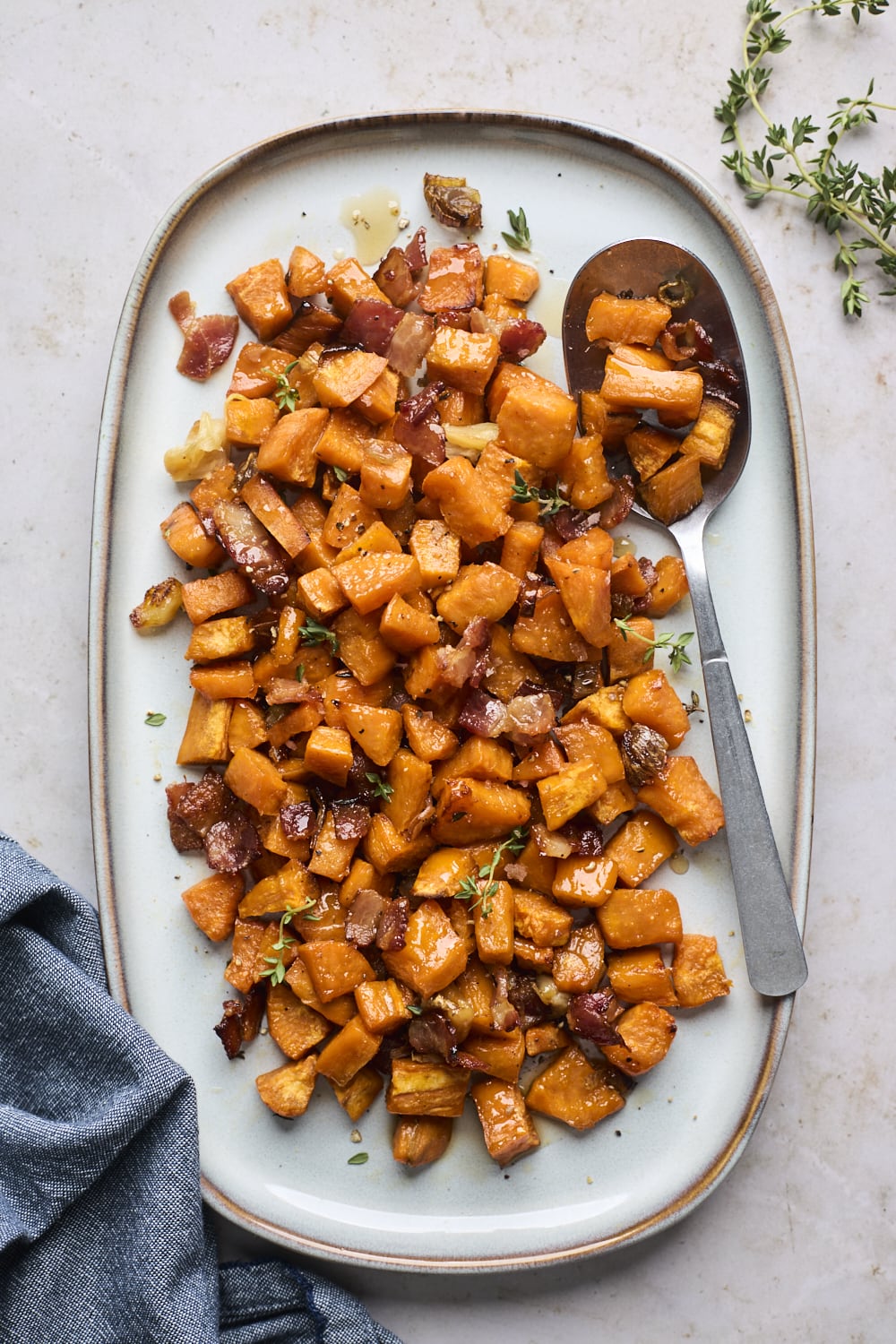 Roasted Sweet Potato Ingredients:
Sweet Potatoes – Any kind will work - jewel sweet potatoes, yams, red or garnet yams, use what you have available to you or what you prefer.
Herbs & Spices - I like to use fresh thyme but some fresh sage would be nice here too. I kept it simple with the spices and seasoned the sweet potatoes with Salt and Pepper. Feel free to use any other spices you like like cumin, chili powder, paprika, garlic powder instead of fresh garlic
Maple Syrup - this adds a hint of sweetness and some delicious flavor - feel free to substitute with honey if you prefer. I like to use real maple syrup for best flavour
Bacon – I like to use a good quality bacon that is nice and smoky and delicious. I recommend a regular cut bacon as it will cook evenly with the potatoes and get crispy - you can use a thicker cut or even pancetta but be sure to chop the thicker cuts into smaller pieces so they cook faster
Shallot - substitute with a small red onion to white onion
Garlic - I like to keep the garlic cloves intact - I just smash them and leave them unpeeled to roast and caramelize. Once done I squeeze them out and sort of crumble or tear into smaller bits and toss wth the potatoes before plating. Feel free to use garlic powder if you prefer - approx 1/2 -1 teaspoon should do the trick. 
Olive Oil – a little goes a long way in this recipe because when the bacon renders while it cooks you will get more oil in the sheet pan. If you add too much olive oil the potatoes will be too greasy - so stick with the 2 teaspons
Extra Add ins - feel free to swap out the herbs and spices to your taste and for an extra savoury version why not sprinkle on some cheese - parmesan cheese, crumbled feta or blue cheese for extra flavour or tang. you could also sprinkle these roasted sweet potatoes with chopped toasted pecans or walnuts for some extra crunch - caramelized pecans or walnuts would be great here too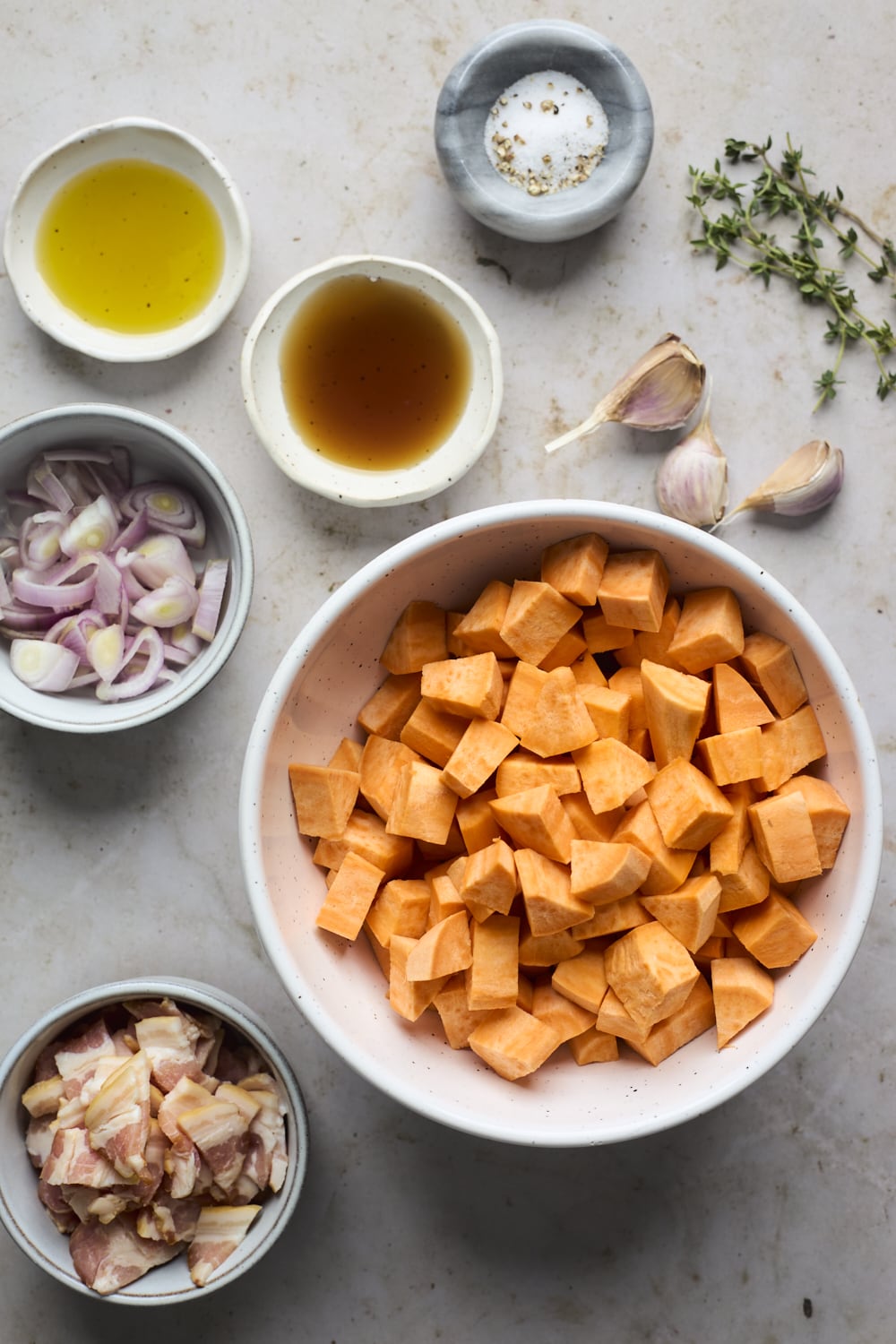 How To Make Roasted Sweet Potatoes With Maple And Bacon
Step 1: Preheat the oven to 425°F and line a large rimmed baking sheet with parchment paper for bay clean up
Step 2: Add the peeled and cubed sweet potato chunks with the chopped sahallots, thyme, cloves of garlic, olive oil, maple syrup and salt and pepper to baking sheet and toss to combine
Step 3: Sprinkle the chopped (raw) bacon evenly over the top of the sweet potatoes. Bake for 20 minutes 
Step 4: After 20 minutes, stir or flip the potatoes and the bacon. return to oven and continue roasting for another 15-20 minutes or until potatoes are tender, bacon is crisp, and shallots are nice and caramelized with some crispy bits. Plate, push the roasted garlic cloves out of the sleeves and serve tossed with the sweet potatoes. Garnish with more fresh thyme or even fresh chopped parsley, and extra drizzles of maple syrup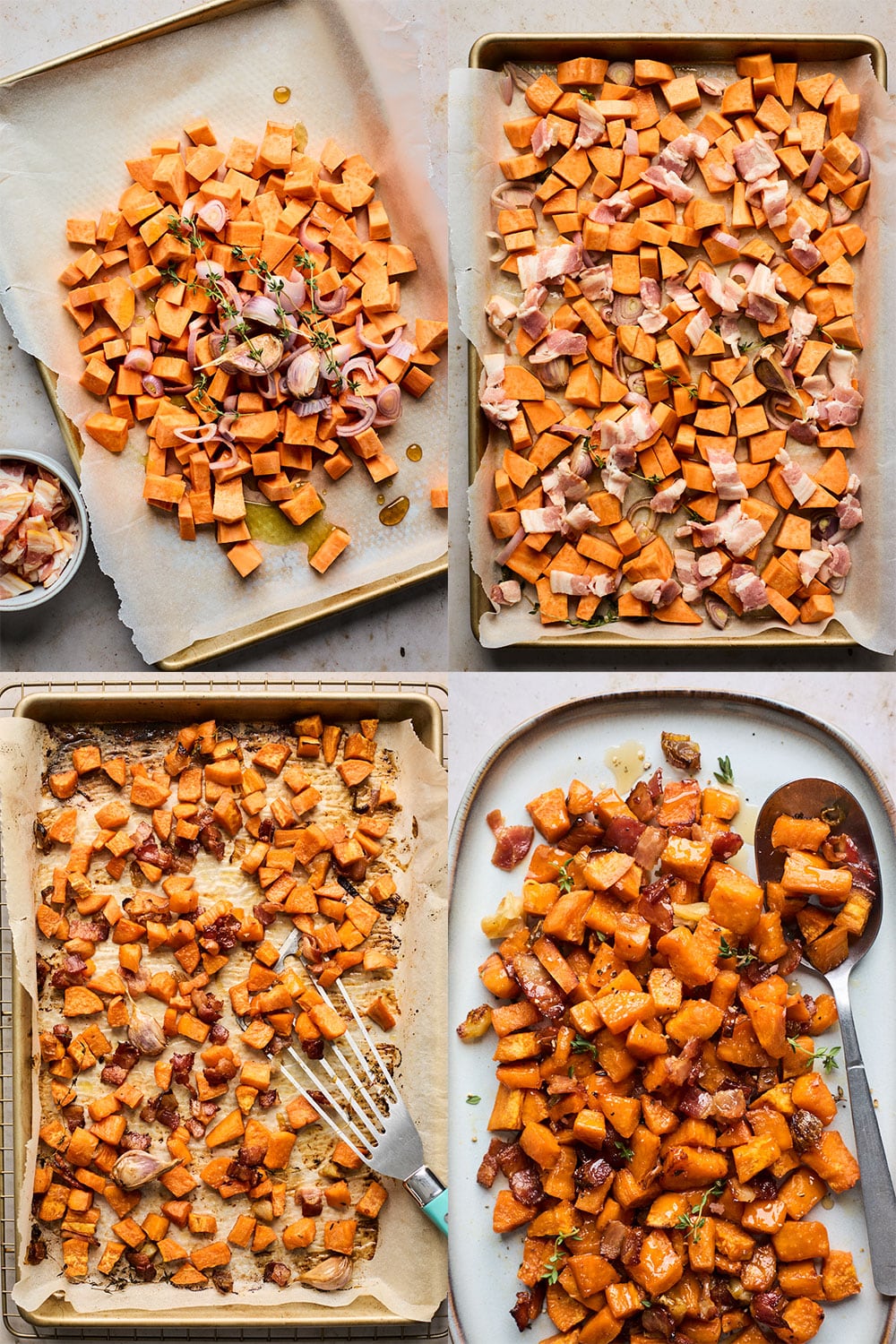 What to Eat These Sweet Potatoes With
These roasted potatoes with bacon make the perfect side but they can also be added to other dishes like: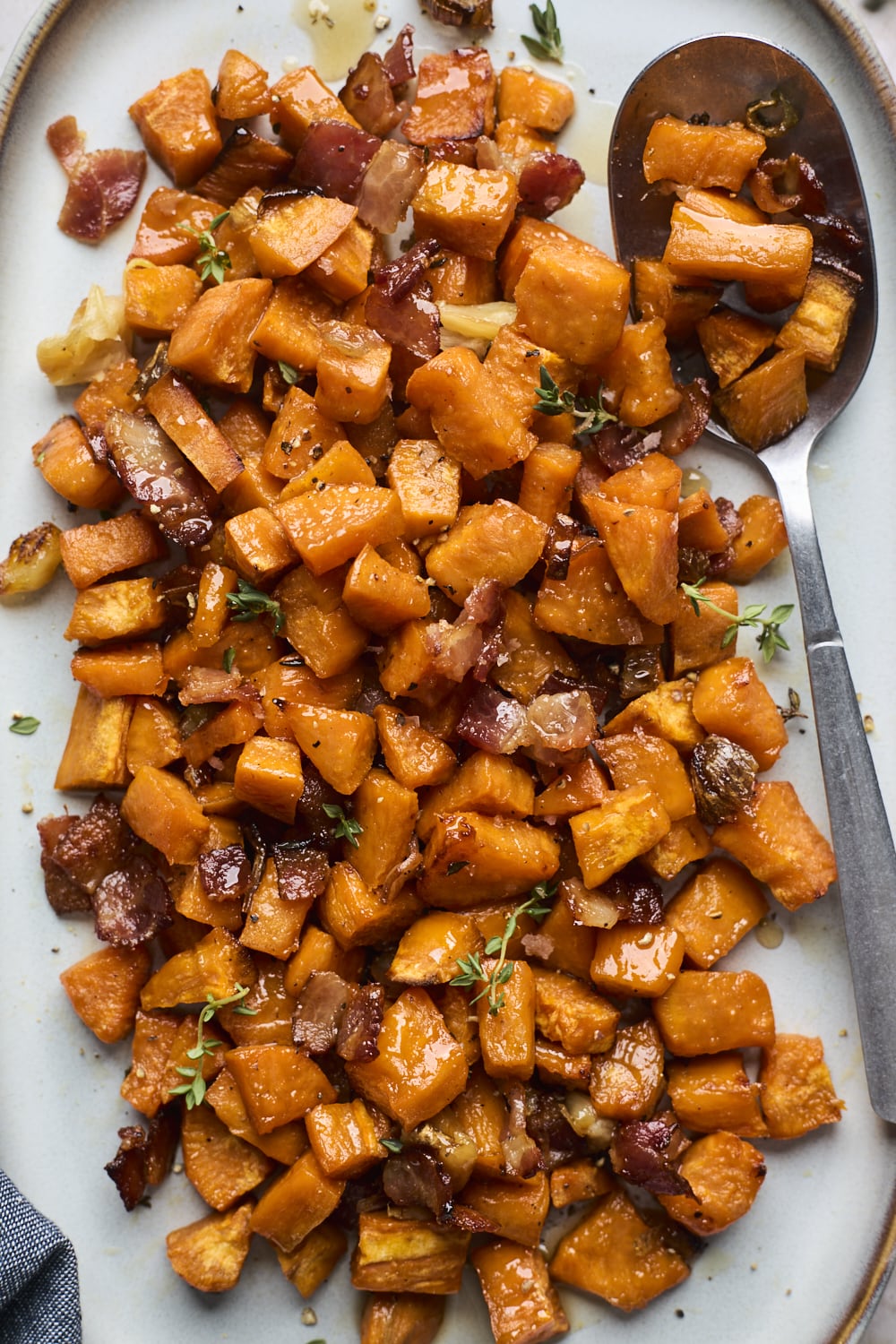 Tips for roasting Sweet Potatoes
Don't crowd your baking sheet. Give all the cubed pieces of sweet potatoes some space so they get crispy and caramelized instead of steaming alongside each other. 
Any sweet potatoes will work well for this recipe but for for best flavour choose the orange and red skinned potatoes which tend to be sweeter, creamier, and less starchy. Choose ones with smooth skins and no soft spots.
Cut or chop the sweet potatoes all the same size or relatively the same size so that they roast evenly.
Make sure your oven is preheated and to temperature to ensure thee sweet potatoes are going in a hot oven.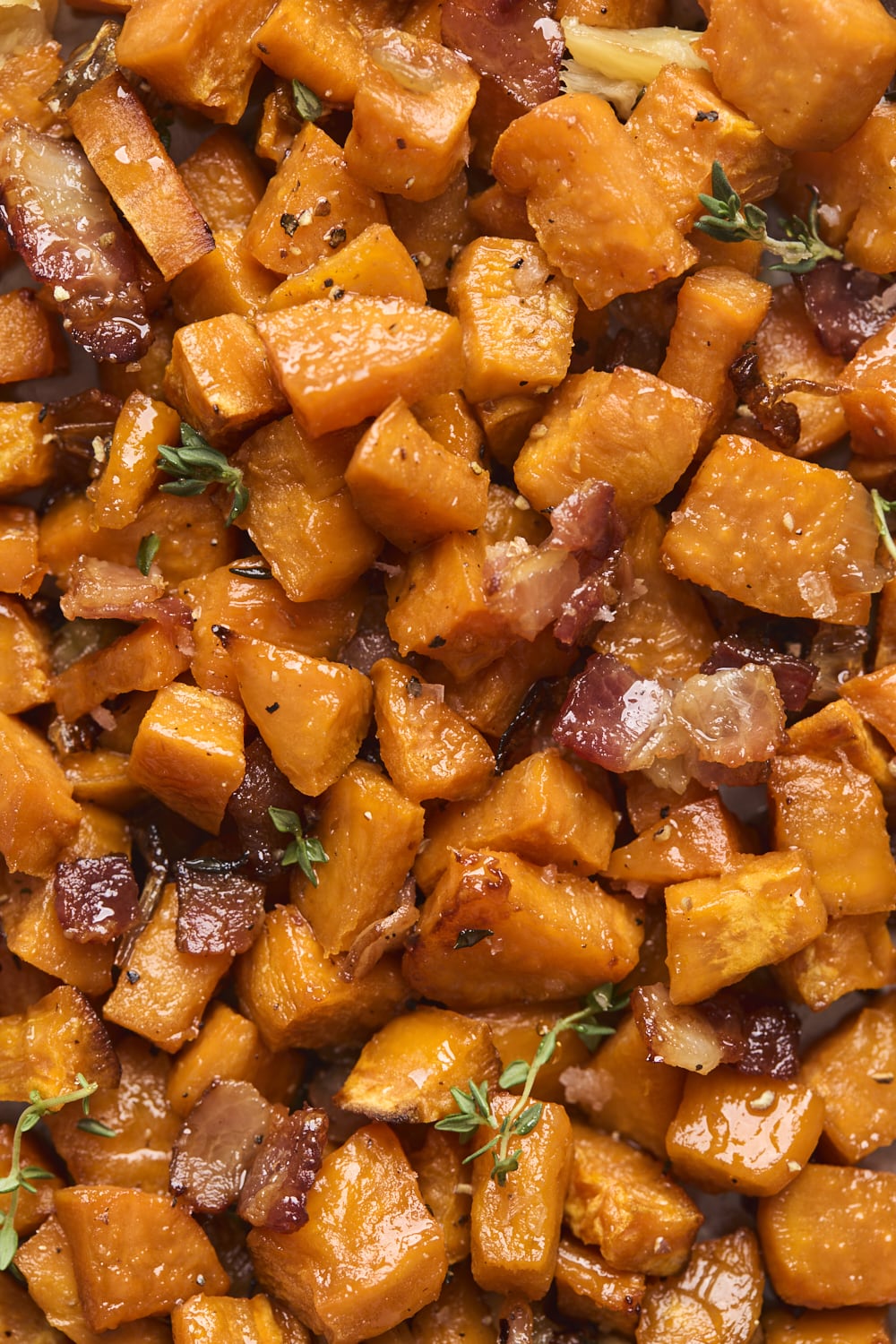 Storage & Make Ahead
If you have any leftovers (big if because these will be gone so fast) store the cooled roasted potatoes in an airtight container in the refrigerator for up to 5 days. Reheat in the microwave or stove top in a skillet or reheat on a baking sheet in the oven until heated through.

More Potato Side Dishes You Will Love:
Recipe
Prep Time: 10 mins
Cook Time: 35-40 mins
Ingredients
2 large sweet potatoes (approx 5–6 cups) peel sweet potatoes, cut into 3/4-1-inch cubes/chunks

1 large shallot peeled and chopped

2 teaspoons olive oil

2 teaspoons maple syrup plus more for drizzling 

3-4 slices bacon, uncooked, sliced, or chopped into 1/2 inch pieces 

5 sprigs thyme plus more for garnish 

3 cloves of garlic smashed and left whole 

Salt and black pepper to taste
Directions
Preheat oven to 425ºF.
Place sweet potato cubes, shallot, garlic and thyme in a large rimmed baking sheet lined with parchment paper.
Toss with oil and maple syrup and pinch of salt and pepper 
Sprinkle uncooked bacon over the potatoes.
Bake for 20 minutes. Stir or use a thin, metal spatula to flip the potatoes and roast an additional 10-15 minutes or until potatoes are tender and slightly caramelized.
Season with salt and pepper to taste before serving if needed. Plate, Push the roasted garlic cloves out of the sleeves and serve tossed with the sweet potatoes. Drizzle with extra maple syrup if desired and garnish with fresh thyme or fresh chopped parsley 
Serve immediately, or allow to cool completely on the baking sheet
Recipe Notes
All ovens are different, your cooking times may vary as well.
White sweet potatoes, yams, even regular potatoes can be used in this recipe.
Do sweet potatoes need parboiling before baking? Not in this recipe - they go in the oven raw and roast to perfection 
How do I know when my sweet potatoes are done baking? They should be fork tender - I like to use a sharp knife to test for doneness - just use the sharp tip of it to poke the potatoes and the knifes edge should be able to pierce through easily without too much resistance 
Are Sweet Potatoes good for you? Sweet potatoes are a great source of fiber, vitamins, and minerals like beta carotene, vitamin C, and potassium. I love them and they are quite good for you but remember you are also adding bacon and maple syrup to these ones for this recipe so I definitely would not call this dish a health food dish - but it's a fabulous one to enjoy!