Makaronia Me Kima (Greek Meat Sauce)
This Greek-style meat sauce and spaghetti is my all time favourite kind of comfort food. I'm up for it any day of the week and truly never tire of it. In fact when there is any doubt or question about what's for dinner this is the meal I always make and the one my mom always made and probably almost every Greek household. This Greek style bolognese is rich, thick and has a nice depth of flavour. It's perfect for a quick midweek meal but even better if you can simmer it for a couple of hours for even more flavor - making it the perfect Sunday sauce as well! It has some warming spices that are distinct to a Greek style meat sauce that add to the depth of flavour in the sauce.
There are so many variations of this Greek meat sauce - even among Greek households. In fact that is why it has been one of the hardest recipes to get on the blog. It's one of those recipes that I make often but it's also a recipe that I make differently almost everytime - depending on what I have on hand. For example: When I don't have finley minced tomatoes/crushed tomatoes I use a hefty amount tomato paste and broth. If I don't have red wine I will add white wine. If I don't have enough ground beef I will add ground pork or even ground turkey. Sometimes I will add more veggies like bell peppers or mushrooms. Just like most meat sauce/bolognese recipes, this Greek meat sauce recipe is versatile. As long as the ratios of meat and sauce and spices stay the same you really can adjust most things to taste and to what you have available or on hand (full of pantry staples) - another reason of love a good meat sauce. One other reason is that the flavours of the sauce get better the next day so its a great make ahead dish and it also freezes really well! Let's talk ingredients…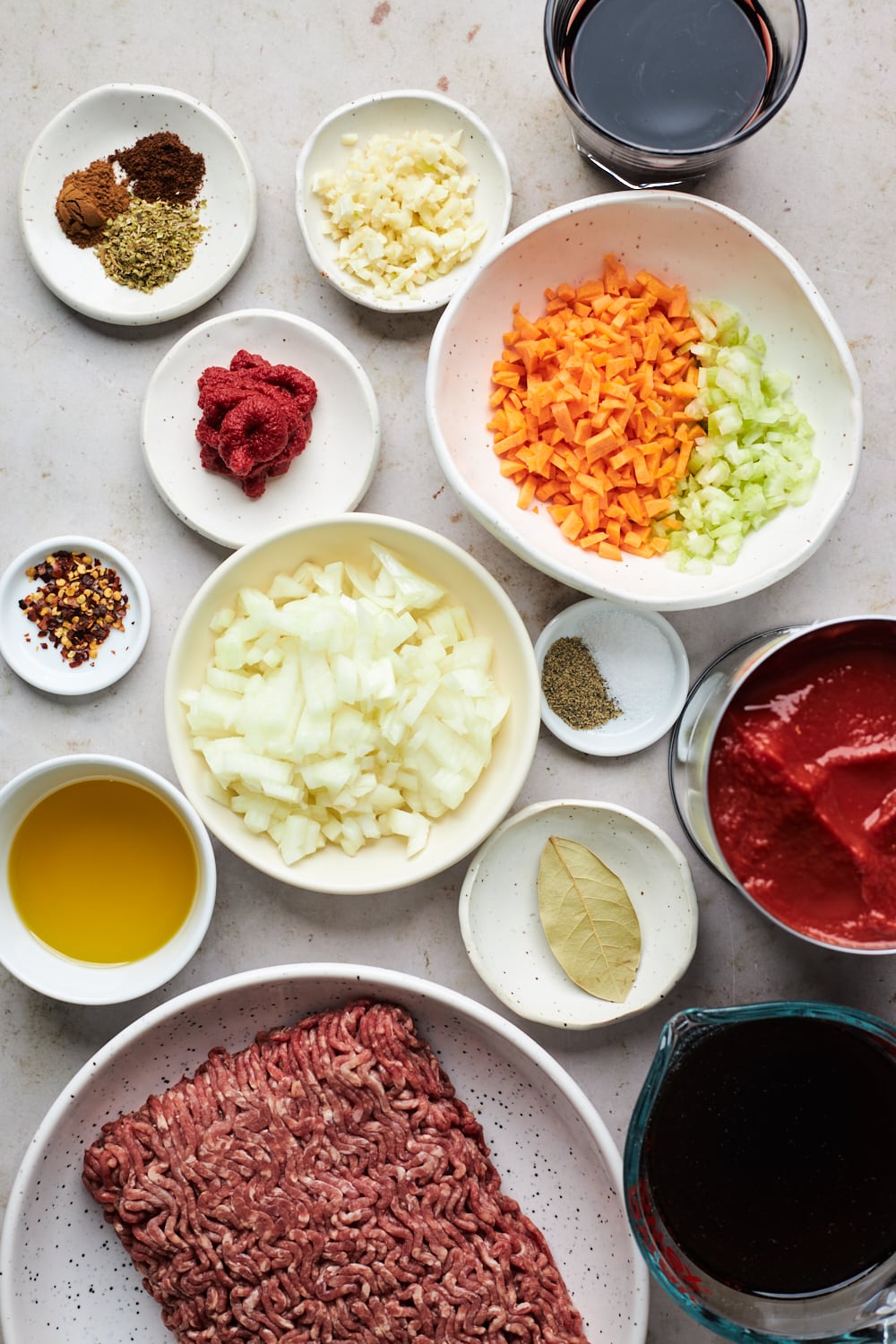 Makaronia Me Kima (Greek Meat sauce) Recipe Ingredients
EXTRA VIRGIN OLIVE OIL: Olive oil is used to saute the veggies
MEAT: I usually use lean ground beef but for extra flavour I will either add some ground pork or replace some or up to ¼ of the ground beef with ground pork or you could do equal portion half and half. You can drain your meat of any excess grease after cooking if needed. You can also make this meat sauce with ground lamb as well. For a low calorie version use ground turkey or ground chicken.
VEGETABLES: The best sauces and ragus begin with a sofrito of onions, celery and carrots to infuse the entire sauce with flavor.
CRUSHED TOMATOES: you will need one 28 oz can crushed tomatoes or finely chopped. Good quality San Marzano tomatoes are recommended as the tomatoes are the back bone of the dish. San Marzano tomatoes can often be sold "whole" so you will want to pour them into a bowl and crush them with your hands, potato masher or put them through the food processor. You can also use fresh tomatoes if you prefer. (grate the fresh tomatoes for best results and discard the skin).
TOMATO PASTE: Is the key to making meat sauce taste like it's been simmering for hours. I love the rich flavor it adds to the sauce and always add it. In fact if I don't have any crushed tomatoes sometime I will use and entire 13 oz can of tomato paste - Krynos is my fav and I thin it out by using extra broth.
WINE: Add ½ cup dry white wine or red wine to deglaze the pan; cook until the wine evaporates. It adds so much flavor to the sauce but is optional - simply replace with more broth or water.
BROTH: This helps add flavor and liquid to the sauce to allow it to simmer. Beef broth or chicken broth or even vegetable broth can be used. Some recipes call for using tomato sauce or passata instead of broth - if you prefer that over broth feel free to substitute.
SUGAR: Is an optional add in - I don't always add it but what it does is balance the acidity of the tomatoes.
GARLIC: Is essential to flavorful meat sauce! I use 3 garlic cloves but you can use more or less depending on your taste.
SEASONINGS, SPICES & HERBS: In addition to the aromatic onions and garlic, this Greek Meat Sauce is seasoned with red pepper flakes, oregano, salt, pepper, cinnamon (ground cinnamon or 1 stick of cinnamon) , clove (ground clove or a couple of whole cloves) and a bay leaf. Some recipes call for adding allspice for extra flavour or in place of the clove - feel free to do so and feel free to adjust amounts to taste. I like to finish the dish with some chopped fresh parsley but that is optional.
PASTA: Use spaghetti for the Greek version of this dish or use whatever pasta you like - cooked drained and tossed with melted butter or olive oil then serve with sauce over top or toss drained pasta with sauce and some reserved pasta water.
GREEK CHEESE: Grated cheese to finish this dish is always a good idea! Top the Greek spaghetti with either grated myzithra, Kefalogaviera or Kefalotyri cheese. Substitute with Parmesan cheese or Pecorino.
ALTERNATE ADD INS: Add chopped mushrooms and sauté them with the meat and the veggies or add zucchini, eggplant, bell peppers, or any other veggies you desire.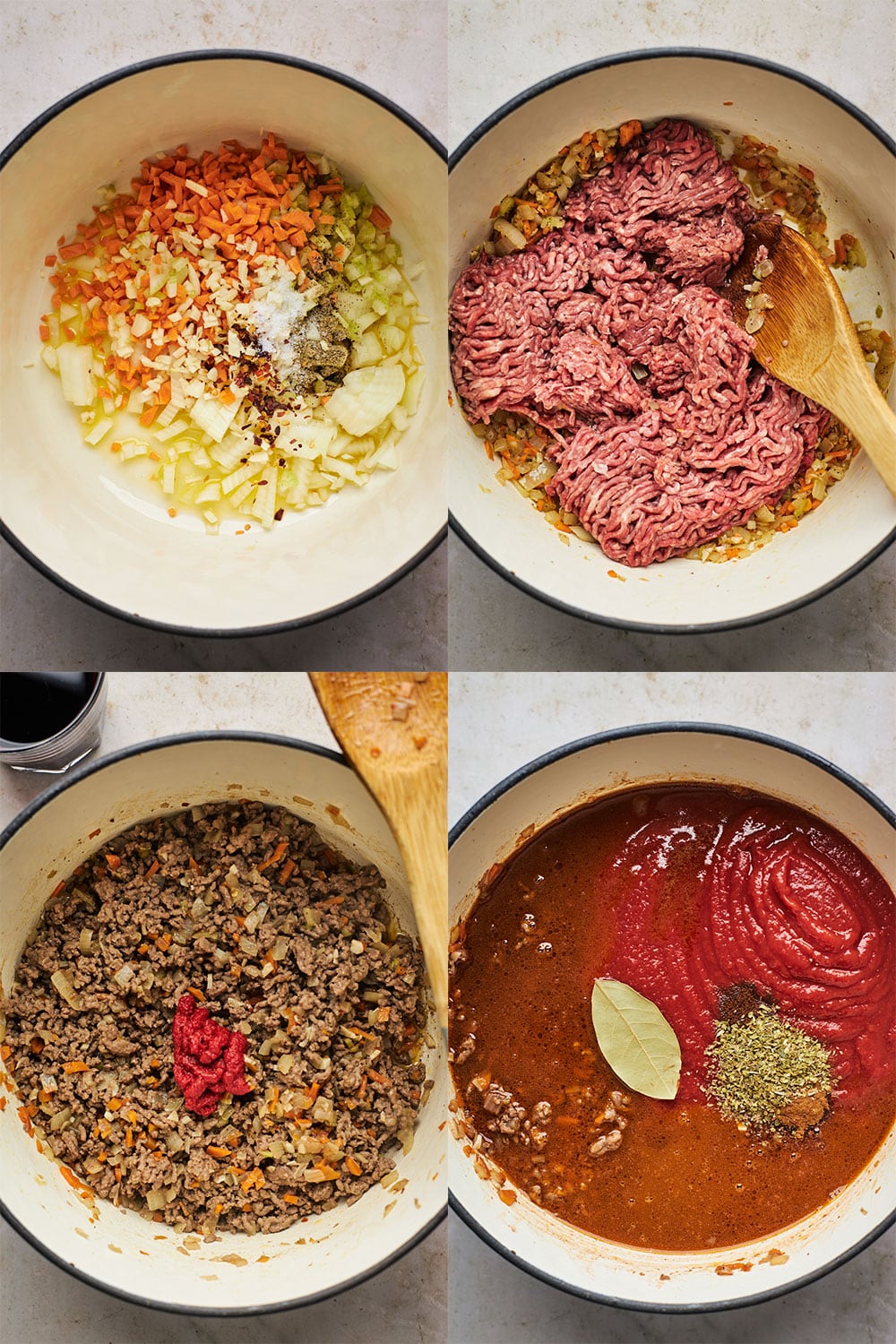 How to make Bolognese Sauce
The making part is straightforward and quite quick too:
Saute garlic and onion – about 3 minutes;
Brown the beef – make sure to brown your ground beef well, as this will add much-needed extra flavour to the final finished dish.
Add everything else, give it a good stir then simmer for 20-45 minutes minimum (midweek), up to 3 hours (aka Sunday sauce!). Slow cooking makes the beef incredibly tender and the sauce develops extra flavour. Of course if you are cooking the sauce long you may need to top up the liquids/broth little so sauce doesn't dry out.
Cook and drain pasta toss with melted butter or olive oil then serve with meat sauce overtop OR Toss the Sauce With Spaghetti
Cook pasta til al dente, scoop out a cup of pasta cooking water and set aside, then drain the pasta, skip tossing with butter or olive oil .
Add pasta into the bolognese sauce with about ½ cup of reserved pasta water over medium heat. Toss gently for 1 ½ – 2 minutes, or until the spaghetti turns red and the sauce thickens.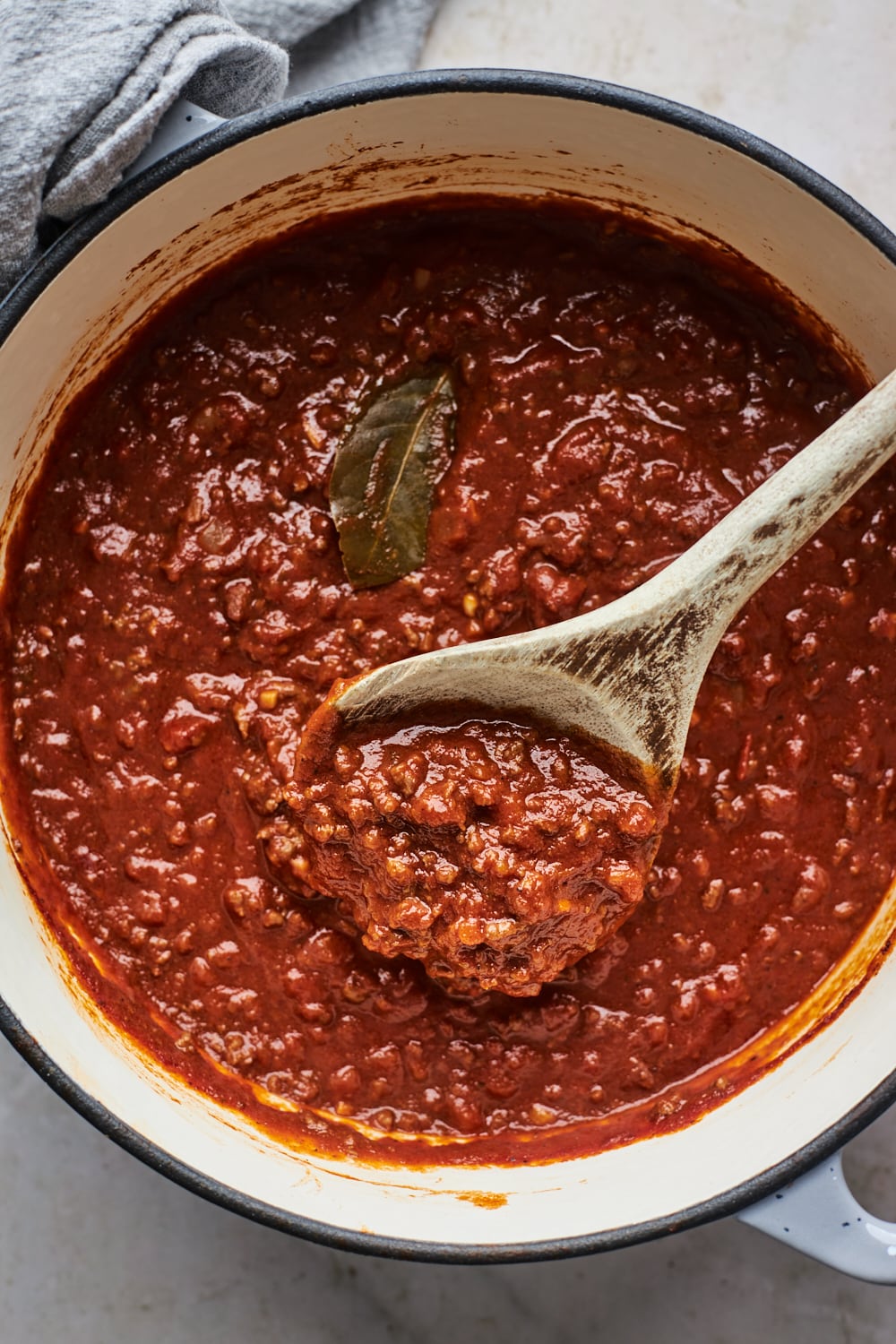 Makaronia Me Kima Storage & Freezing
STORAGE: Refrigerate meat sauce within two hours of cooking. Once sauce is room temperature transfer to an airtight container. Store in a sealed container in the fridge for 3-5 days. Reheat stove top or in the microwave.
FREEZING: Once sauce is room temperature transfer to an airtight container or heavy-duty freezer bags. Freeze for up to 3 months. When ready to use, let sauce thaw in the refrigerator overnight. Gently heat over the stove.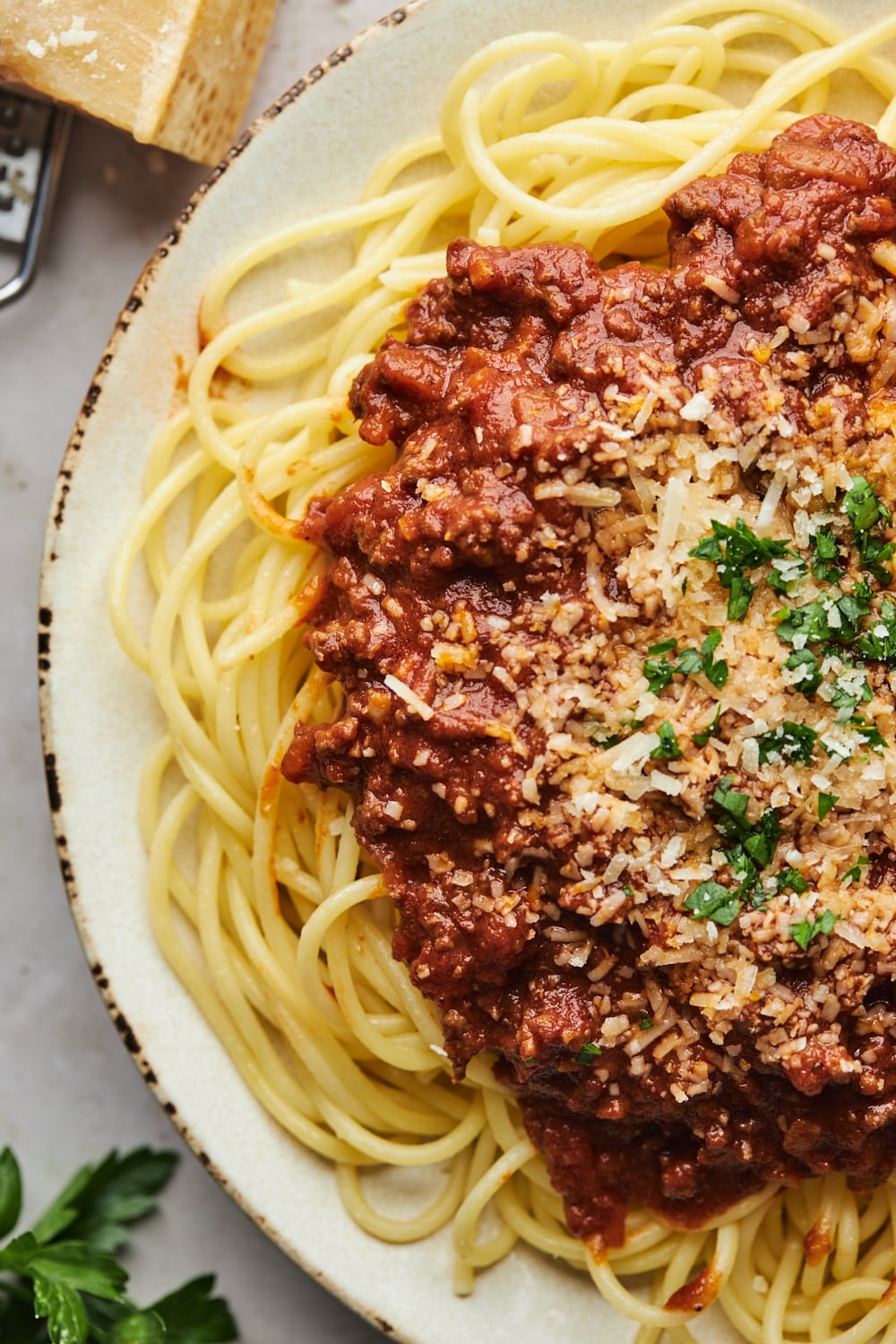 Serve Makaronia Me Kima With: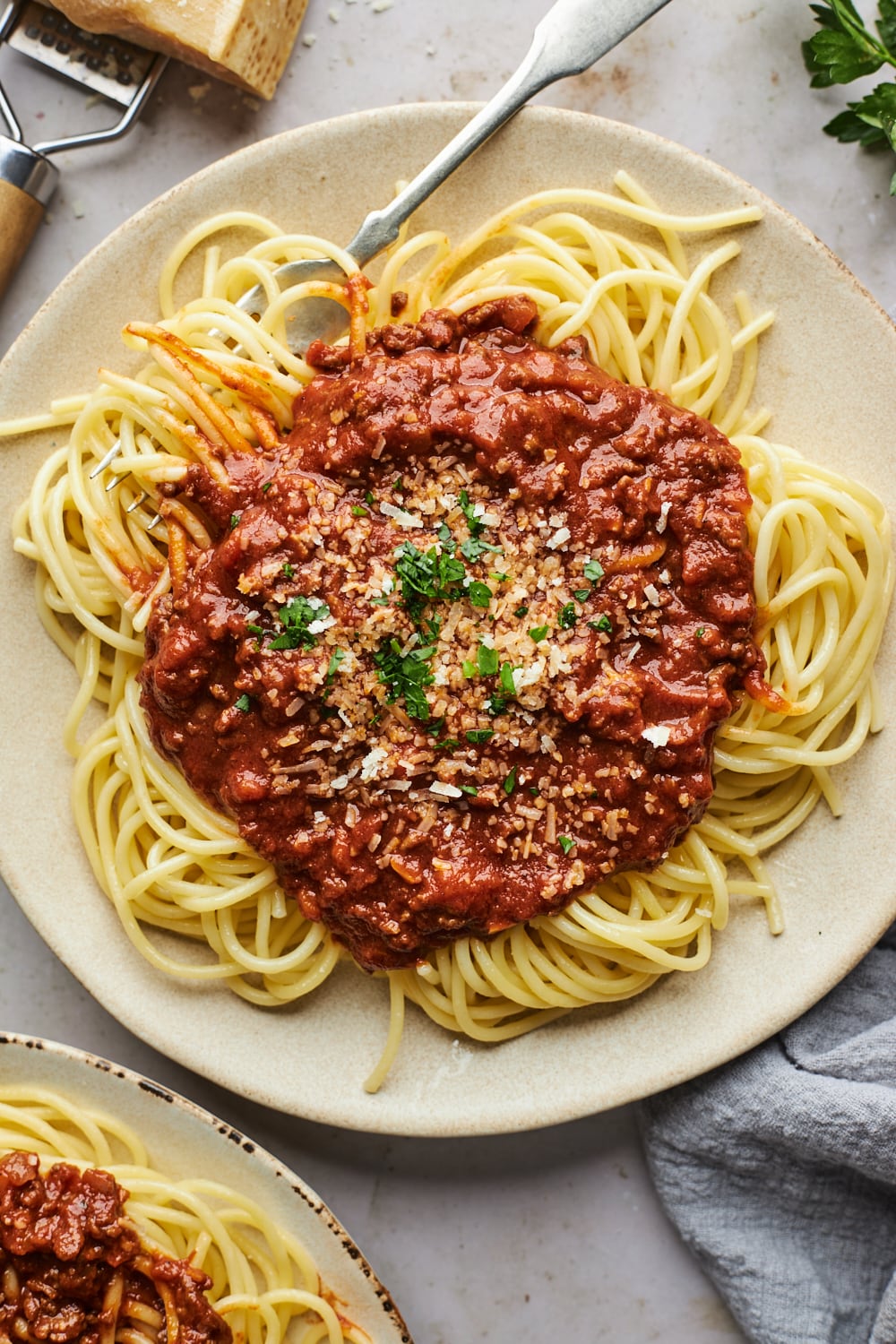 More Recipes You Will Love:
Recipe
Prep Time: 10 mins
Cook Time: 60 mins
Ingredients
2 tablespoons olive oil

1 large onion, peeled and chopped

3 cloves garlic, peeled and chopped

1 carrot peeled and minced

1 stalk of celery minced

½ teaspoon chili flakes

1 lb ground beef

¼ cup tomato paste, heaping

½ cup (120 ml) red wine

1 cup (250 ml) broth either beef or chicken plus more as needed

28 oz can crushed or finely minced tomatoes

½ teaspoon ground cinnamon or 1 cinnamon stick

⅛-¼ teaspoon ground cloves or 2 cloves

1 teaspoon dried oregano

½ teaspoon sugar (optional)

1 bay leaf

Salt and pepper to taste
For Serving
400 grams/13 oz Spaghetti

2 tablespoons butter or olive oil

Grated myzithra, Kefalogaviera or Kefalotyri cheese or Parmesan cheese or Pecorino

Chopped fresh parsley for serving (optional)
Directions
Heat olive oil in a large dutch oven or saucepan to medium-high heat. Add in onion, carrots, celery and garlic and sauté, until softened and starting to have golden edges. (5-8min)
Add the ground beef and cook breaking up with a wooden spoon until browned. (5-8)
Stir in tomato paste and cook another minute until caramelized. Pour in the red wine and deglaze, cooking until it has reduced.
Stir in the tomatoes, broth, chili flakes, oregano, sugar if using, cinnamon, cloves, bay leaf and a good pinch of salt and pepper. Bring to the boil, turn the heat down to medium heat or medium low and simmer with the lid on for about 30-45 minutes, until most of the juices have evaporated. Stirring occasionally and making sure there is enough liquid for sauce to simmer adding more broth as needed.
Cook the spaghetti in a large pot of salted boiling water according to package instructions. Drain the pasta. Heat olive oil or butter in the same pot you boiled the pasta, return drained pasta to pot and toss well with the butter or oil to coat.
Serve out pasta into bowls and ladle over meat sauce and enjoy hot with extra chili flakes and grated cheese.
Recipe Notes
If you prefer to add the spaghetti to the sauce - Cook pasta til al dente, scoop out a cup of pasta cooking water and set aside, then drain the pasta, skip tossing with butter or olive oil . Add pasta into the bolognese sauce with about ½ cup of reserved pasta water over medium heat. Toss gently for 1½ – 2 minutes, or until the spaghetti turns red and the sauce thickens.
Don't omit the ground cinnamon - the clove lends a complimentary flavor to the cinnamon but I know it may not be everyone's favorite spice (my bother hates it for example) so feel free to omit but the cinnamon is the dishes signature spice!